This traditional chalet-style beach house sleeps four and is big enough for a family but small enough to be cosy for a couple. With a private garden and set in a group of individual, privately owned holiday homes, you'll have direct access to Gwithian's stunning beach, wild sand dunes and the Cornish coast path.
Lighthouse View is a recently renovated chalet-style beach house set in a small group of individual, privately owned retreats at Gwithian Towans. The setting is very special and the clue is in the name. You will have clear views of St Ives Bay and iconic Godrevy lighthouse, the inspiration for Virginia Woolf's novel To The Lighthouse – as well as direct access to literally miles of clean beaches and rolling sand dunes. The retreat comes with a good sized and completely fenced garden too, perfect for barbecues and secure for four-legged friends.
Lighthouse View beach house sleeps four in two delightful bedrooms and both the living room and dining room share the same dramatic views. The newly fitted kitchen is very well equipped too, making Lighthouse View a great place for family entertaining. Gwithian beach is safely lifeguarded in the summer and awe-inspiring in the winter. Guests here spot seals and sometimes dolphins, not to mention countless sea birds and you can look across St Gothian nature reserve from the beach house.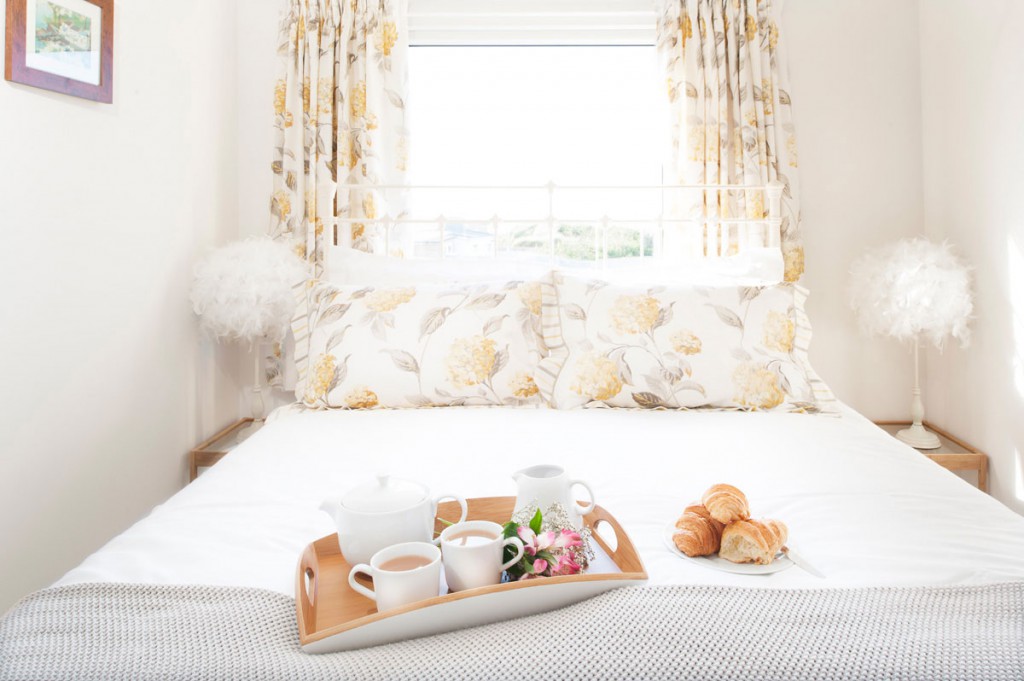 Inside Lighthouse View
Inside Lighthouse View you'll find a light and friendly living room with a sofa and additional seating, a great flat-screen TV and lots of DVDs, as well as books and games. The owners here love to cook, so you'll find the kitchen very well appointed and next to the kitchen is the lovely dining room with a practical pine table and seating for four. The bedrooms are very comfy and the master room with its king sized bed has sea views. A modern bathroom with shower completes the accommodation.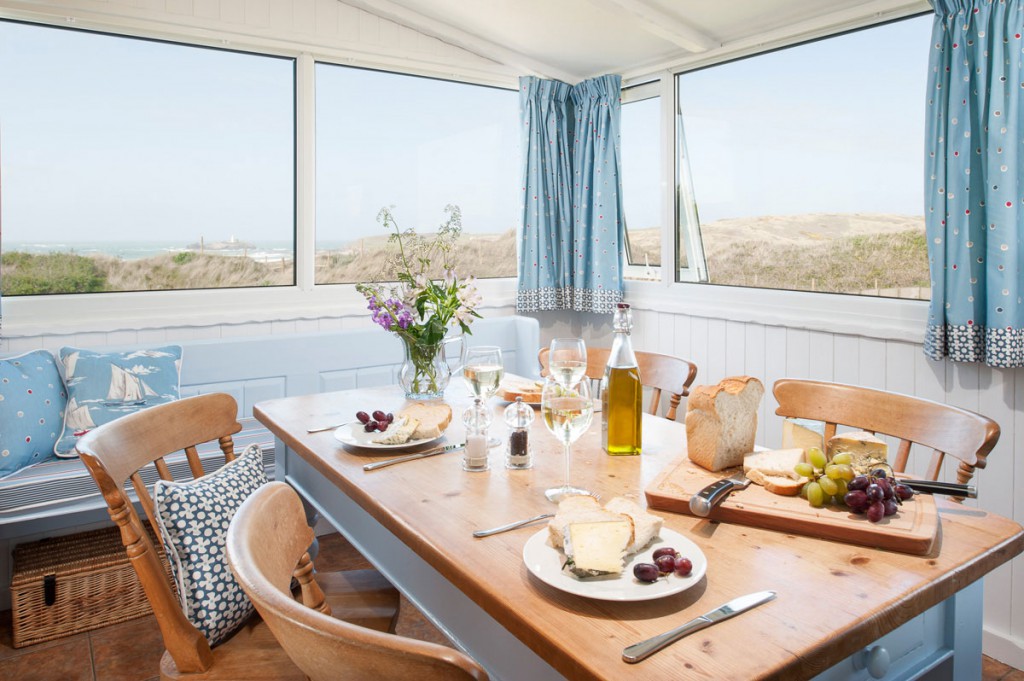 Outside Lighthouse View
The beach house is set in an enclosed plot, with other privately owned chalets behind and to the side. The garden surrounds the accommodation on all sides, and there are sunny spots throughout the day so you can laze around until the sunset if you wish. There's an outdoor dining table and Adirondack chairs as well as a quality Weber barbecue. In the garden there's a storage shed for beach equipment too.
Things we love…
It would be tempting to say that the special thing about Lighthouse View is the setting, which would be quite true… those who know this place fall in love with the ever-changing beach with its vast expanses of sand and sheltered nooks and crannies, surf and rockpools, the miles of rolling sand dunes clad in marram grass and the sun setting over St Ives. Regulars return year after year, with children and grandchildren in tow. But with Lighthouse View, the chalet is as memorable as the place, it's a delight, with lovely fixtures and fittings and thoughtful little touches everywhere you look. You can tell the owners cherish it – and we are sure you'll love it too.
Warm, safe and comfortable haven
The week when Storm Noa hit! We were really unlucky with the weather but being at Lighthouse View was really rather lovely. A warm, safe and comfortable haven with the most beautiful views, so even when it was hard to be outside, we could still see and feel it. Such a lovely position to the beach. The children (and us) enjoyed exploring and running through the sand dune trails, as well as the ease of getting onto the beach. All the touches in the chalet are lovely: pens, colouring games, books, binoculars — all a hit with us! We'll be back!
Clare, Adam, Poppy & Harry — April 2023