An award-winning contemporary barn conversion that has been created for inspiring holidays with family or friends. The retreat sleeps six in comfort and has spacious kitchen and living spaces. Outside is a small sunny garden, and a covered area with table-tennis. You'll be close to Frenchman's Creek and numerous beaches.
Mowhay Barn is a stunning reverse-level contemporary barn conversion that has been created with inspiring holidays for families and friends in mind. Hundreds of years of history has been lovingly folded together with up-to-the minute contemporary features to create a living space that simply makes you feel good, from the moment you step in. And outside you can choose between relaxing in your own sunny garden, wandering through into the sculpture garden of next-door Kestle Barton art gallery, beyond to the meadows and orchards, or a little further down footpaths to beautiful Helford village or romantic Frenchman's Creek. You are also close to the famous Helford River, its woods and creeks, and the beaches of the Lizard Peninsula and Falmouth Bay.Mowhay Barn is a part of the ancient farmstead of Kestle Barton, the whole of which has been lovingly restored. Here you will also find the Kestle Barton gallery, with its changing displays, workshops and imaginative sculpture garden. As well as Mowhay, there is also the original farm house and two further barns sleeping two, and eight — making this a great place to book separate accommodation with friends and family. You'll find the Kestle Barton Farmhouse and the barns Avallen and Howthere on our website too…
The superb architectural quality or Kestle Barton has been acknowledged with several awards including the Conservation Category in the RIBA South West Town and Country Design Awards 2011, and the Green Apple Award 2011 for The Built Environment and Architectural Heritage.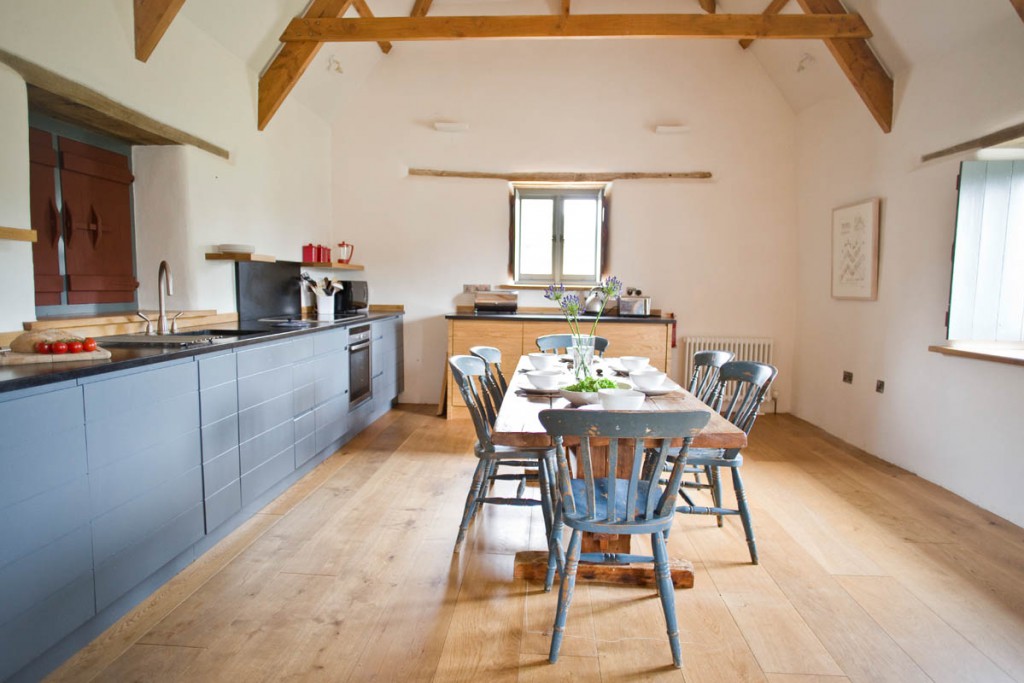 Inside Mowhay Barn
Inside you find a large open-plan kitchen and dining area, opening high to a beamed ceiling. It is generously equipped with the things you'd expect like electric cooker, microwave, fridge, freezer, washing machine, tumble-drier, dishwasher… but also original artworks by some of Cornwall's best contemporary artists.
Opposite, and on the same level is the stunning living room, with generous sofas, high roof-beams, polished lime-plaster rendering, beautiful wide-planked oak flooring, and contemporary wood-burner.
Bravely contrasting with the heritage feel of this barn, the unashamedly modern staircase takes you downstairs…
… where you will find two double rooms, and a twin. Both doubles have very comfortable superking-sized beds, and one has a to-die-for en suite bathroom with double-ended bath and stroll-in shower. A generous family bathroom complete the accommodation. The downstairs walls tell the history of this building — with hints of an ancient granite doorway here, new heritage plasterwork there… and everywhere a lovely sense of style and space.
The garden and gallery
Open the wooden gates from the car-parking area and step into your own large open storage barn. It's great for bikes, surfboards and general holiday paraphernalia… and comes complete with a table-tennis table for extra fun when you run out of everything else to do.
Beyond this is your pretty garden. It gets the sun all afternoon, and has elegant furniture for al-fresco dining and stylish Adirondack relaxing garden chairs. Beyond is the sculpture garden of the Kestle Barton gallery (pictured below). During times the gallery is open you will also find your hosts here, so you can always find someone if you need them. You can also get good coffee and often nice baked things. Beyond that is a  wildflower meadow and orchard — also all here for you to enjoy.
Many of the artists showcased by Kestle Barton gallery have international reputations, and exhibitions change regularly throughout the summer.
Things we love…
We love the stunning combination of heritage architecture and contemporary design. Upside-down living in Mowhay Barn is great fun, and the upstairs makes a superb space for families and friends; big enough to find a quiet corner, but all connected together so a good space for socialising too.
The setting of Kestle Barton is unique. You are staying not only in a beautiful barn conversion, but also in the heart of an ancient farmstead that is now both a haven for escape, and a highly reputed centre for the arts. In turn. Kestle Barton is connected to the world by footpaths that lead to woodland and village, creek and pub.
Alastair Sawday has visited and inspected Mowhay Barn and he loves it too!
We have loved it!
A Cornish Christmas at Kestle Barton. Wonderful walks, fantastic food and endless games — it has been such a great way for us to spend time together as a family, we have loved it! The barn is beautiful and so well set up — there was everything we could possibly need to prepare our turkey Christmas dinner and all the other meals, working together in the lovely big kitchen and then eating together around the central table. The Christmas tree and chopped wood by the fire, bottle of wine and Cornish fairings were so welcoming.
Louise & family — Christmas 2022