Explore Gwithian Towans and Godrevy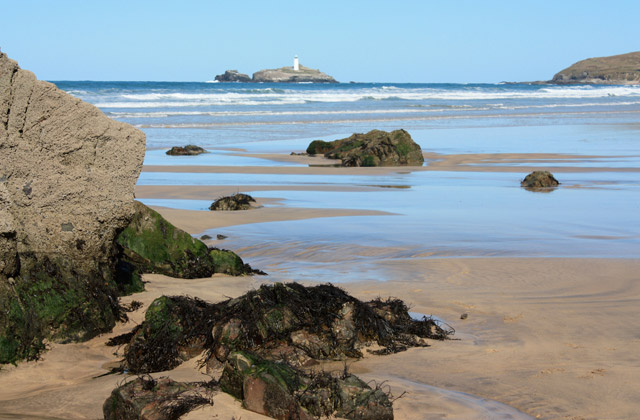 Gwithian Towans
A favourite destination amongst our visitors, Gwithian Towans is backed by sand dunes and wild grass, with rock pools and caverns for both kids and adults to explore! Gwithian is also known for its wildlife – where seeing a seal is a regular occurrence, and you will often find seabirds such as guillemots, razorbills and cormorants nesting.
If you're looking for a bite to eat the recently refurbished Sunset Surf Beachside Café and Surf Shop offers a varied menu, serving locally sourced produce wherever possible. This topped off with a pleasant view overlooking the beach and the opportunity to shop makes it the ideal spot! Alternatively, the Jam Pot Café and Shop, a former 19th century coastguard lookout, is where you can enjoy home cooked snacks whilst being entranced by the stunning, natural views over St Ives Bay.
Gwithian Towans welcomes experienced to amateur surfers, watersports fans and kite-flyers – the constant swell coming in from the Atlantic gives Gwithian Towans good all year round conditions. The beach brings consistent, quality waves suitable for all surfing abilities and gets gradually bigger the further towards Godrevy you go, so you know that you'll always find a wave to suit your ability. The beach is also lifeguarded from Easter until the October half term, allaying any fears amongst the average surfer!
If you want to learn to surf, Gwithian is the beach for you – head to Gwithian Academy of Surfing for lessons. Offering lessons to beginners and experienced surfers, it provides fully qualified instructors who have even coached the British Junior Surfing Team! If you don't need a lesson, you can also hire surfboards and wetsuits.
Until the late 20th century, the waters of the river were coloured a distinctive red, because iron ore from the local tin mines stained them. At high tide most of the sands are hidden, cutting Godrevy off from Gwithian. Gwithian Towans is connected to Godrevy Beach at low tide. The Red River, which runs into the Hayle estuary, marks the boundary of Gwithian and Godrevy.
Godrevy Beach
Godrevy is a National Trust property with three Cornish beaches – two sandy and one sand and stone. You'll find a whole range of people making the most of this beach for very different reasons – with surfers, families, walkers, and nature watchers. People often come to sit and admire the view of Godrevy Lighthouse standing on its own island (as featured in Woolf's 'The Lighthouse')
Situated at the northern-most tip of Hayle's '3 miles of golden sand' and overlooking St Ives Bay, Godrevy takes the brunt of the Atlantic swell and is one of the more exposed beaches of the North coast. Lined by rocks housing many rock pools and steep cliffs, there are countless places for the children to explore, but be careful – the impressive stretch of sand created when Gwithian and Godrevy connect will disappear rapidly at high tide! Look out for the Red River that marks the boundary.
Explore the history of Godrevy and take a walk around the headland to Mutton Cove, where you're sure to spot some seals, (plus there's a car park next door). If you're feeling especially energetic, take the longer walk over to Hell's Mouth and witness birds soaring over secret coves, (don't worry, there's a lovely café at the end of the long walk too!) The National Trust has some great ideas here
If you're hungry, Godrevy Beach Cafe serves up a delicious breakfast and lunch menu, as well as offering delectable baked products – they're very environmentally friendly and try to use local suppliers and local producers wherever possible. Another great option is the Rockpool Seafood Café Bar & Grill, which offers everything from homemade steak burgers and hot dogs to local fresh seafood.
At Gwithian and Godrevy, a seasonal dog ban is in place between 8am and 7pm from the 1st May to 30th September, but feel free to bring them down for an evening stroll. At Godrevy there are also many cliff top walks dogs can enjoy in the day all year round. Toilets are open on the beach between Easter and October and the large grass car parks at the top of Godrevy offer plenty of parking and an opportunity to sit on the grass by your car if going to the beach isn't your thing. Remember, if you're not a National Trust member, you'll need to pay for parking!