St Ives' six beaches – which will you choose?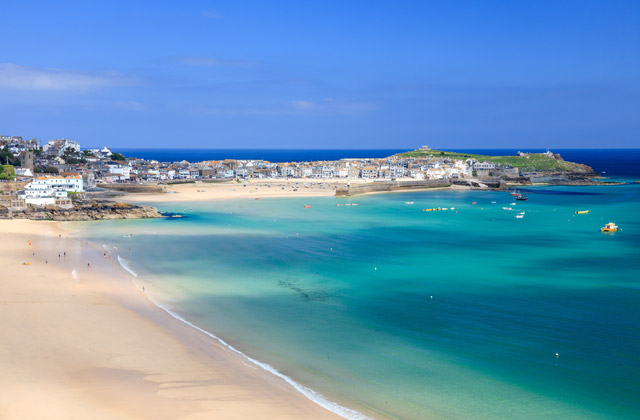 Pictured above: Porthminster and Harbour Beach
With St Ives having six easily-accessible beaches, it's fair to say this town is a sandy paradise. To find out which beach is perfect for you, take a look at our quick guide below:
Porthminster
With gorgeous views across to Godrevy Lighthouse, this award-winning Blue Flag beach points directly at the inspiration for Virginia Woolf's novel To the Lighthouse. Porthminster Beach boasts a tropical feel with waving palm trees and translucent, calm waters — making it a favourite for families swimming or simply hanging out in a deck chair or beach hut.
If you're feeling a bit peckish, Porthminster Beach Café serves up great local food and has won such prestigious awards as Coast magazine's Best Coastal Café and The Times' Best Coastal Restaurant, so it's definitely one to try!
Porthgwidden
The smallest and most sheltered of St Ives' beaches, Porthgwidden is east facing, meaning it's ideal for those who wish to get to the beach early and bask in the sun all day! While there are no lifeguards, Porthgwidden is usually completely safe for bathing, and also welcomes you with a lovely café on the white terrace, a handy snack kiosk, toilets and parking nearby.
Harbour
Aptly named, this beach sits inside the town's working harbour, from which you can often spot local fishermen catching fresh seafood – perhaps some of it will end up on your plate! A natural sun-trap, this soft sandy beach is ideal for swimming and building sandcastles, whilst being in the hustle and bustle of St Ives town, which offers numerous shops, cafes and pubs to explore.
The Lifeboat Station is open to the public throughout the Summer months, exploring a century of St Ives' history, with conveniently placed toilets just behind. For grub, The Sloop serves scrumptious pub food. Boat trips run from Harbour Beach, whether you wish to go seal watching or sail across the bay to the famous Godrevy Lighthouse and Hell's Mouth.
Porthmeor
Porthmeor is one of only five Cornish beaches to be awarded the Blue Flag Award status, meaning that it's tiptop for water quality, safety, education and environmental management. Nestled below the Tate St Ives and just a stone's throw away from the town centre, there are lots to explore on your day out…why not visit one of the town's ancient pubs or quirky cafes for a spot of lunch? If not, Porthmeor has got it covered, with a restaurant and cafe on the beach and a toilet on the terrace behind (often a god-send when with the kids!).
Whether you want a relaxing day sunbathing, or the kids want a surfing lesson, it's all here – throughout the summer, Porthmeor is fully lifeguarded and offers lessons within its own surf school.
Lambeth Walk
This is the perfect beach if you're bringing your doggy, as it's one of only two beaches in St Ives without restrictions – and it's extremely close to town for a bite to eat. Mind you, be sure to go at low tide, as it disappears at high tide – at low tide, you can always take the doggy down to the Lighthouse at the end of Smeaton's Pier.
Bamaluz
Situated between Porthgwidden and Harbour beaches, this 'secret' beach often goes unnoticed, mainly because it disappears at high tide. Dog-friendly all year round, and a great place to take the kids as there are several rock pools and boulders to explore. Be careful though, there are no lifeguards at Bamaluz so it's not ideal for swimming. Because this cove is so small and elusive, you'll need to pop round to Porthgwidden to use their facilities, but don't worry – it's not far!
Top tips
Dogs: All of St Ives' beaches are dog friendly between October and the Sunday before Easter of the following year. In summer there is a 24-hour dog ban on Porthmeor, Harbour, Porthgwidden and Porthminster beaches. We recommend heading to Lambeth Walk and Bamaluz (both dog-friendly all year round) to walk the dog, detailed above.
Getting there: A local's handy tip – because St Ives is so popular, the car parks are often packed in the busy summer months. Why not park the car in St Erth Station or Lelant Saltings and enjoy the scenic train-route (pictured above) into town?
If you like what you see, do explore our cottages in St Ives and around!