Ten great things to do in Padstow
One of the of the great things about Padstow is that there are so many things to do. The themes here are food, wildlife and sealife, discovery and rejuvenation. Choices, choices — blow the budget at Rick Stein's, or grab a simple picnic and save your dollars for a sealife safari…. hmmmmm….
1. Hang out by the harbour
It's what everyone does now and probably what they've always done — just different people. Watching boats come and go, catching crabs, having a pint or generally loitering without intent.
2. Catch the ferry to Rock
Easy and fun to do, take a trip over to Rock (Chelsea-by-sea) for a hour or a day. It's a great little place to wander around, or grab a bite to eat. The ferry sails (or chugs) from Padstow harbour when the tide is in, or the beach when the tide's out. That entails a walk across sand to get to the ferry — all part of the experience.
3. Cycle to Wadebridge
The railway branch line to Padstow was shut in 1967 (thanks again Mr Beeching). A huge loss to the railway network as it was one of the most beautiful stretches of line in the UK. Well, now it's one of the most beautiful cycle paths. Didn't bring a bike? No problem, just hire one… here are some links: Trail Bike Hire Padstow Cycle Hire.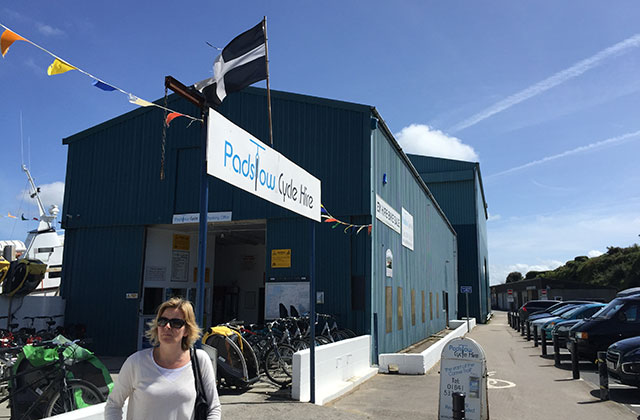 4. Get a picnic
Food is such a major part of the agenda in Padstow that you are never far from a deli or bakery. Even the humble Spar shop is pretty well stocked with nice bits and pieces to eat and there are plenty of good pasty shops. Grab a crab, some mayo, a lemon and some crusty bread and head for the coast path. Shown here is the ubiquitous Mr Stein's very comprehensive deli.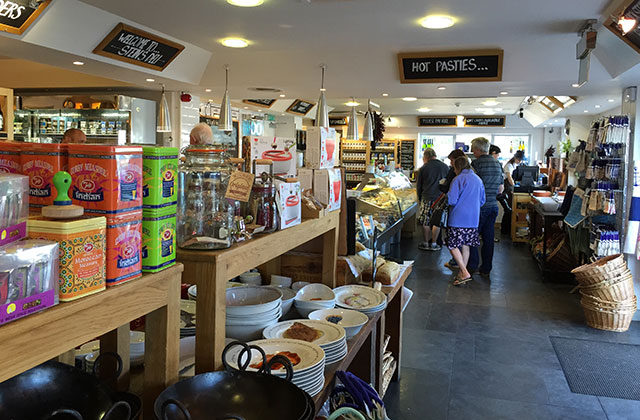 5. Walk the coastal path
Speaking of the coastal path — the stretch here is one of the most stunning you'll find. It starts off an easy and sheltered saunter up the sandy estuary, level and with a good wide pathway and you can be back in town in an hour or so… or venture beyond Harbour Cove to Stepper Point and Trevone.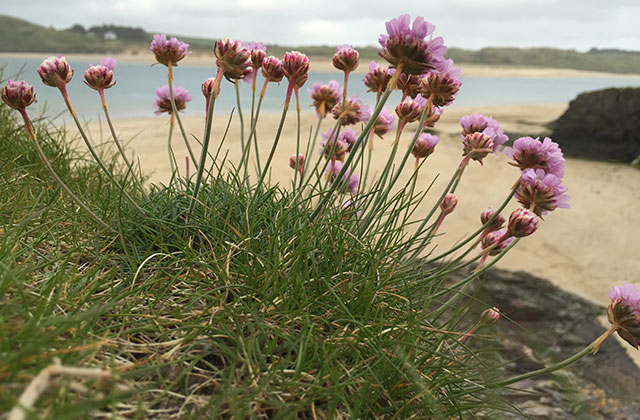 6. Catch crabs
If you've got small ones with you invest in a bucket and some bait and while away some time back at the Padstow harbour enticing crabs to come up from the depths and enjoy some human company — before carefully lowering them back in of course. A great education in patience, tenacity, cunning and empathy.
7. Have a great cream tea
Sorry to be going on about food again — pictured are: Tregothnan tea, scones and blackcurrant jam from Stein's bakery, Rodda's cream of course. The tea is presented in 'proper' Cornishware from T. G. Green & Co on the table at at Marble Arch Cottage.
8. Eat somewhere posh, or not so posh.
Always best to book ahead in Padstow, and essential the celeb places. Here's a list to get started…
The Seafood Restaurant — the original Rick Stein's
Paul Ainsworth at No 6 Restaurant — just brilliant
Rick Stein's café — a lighter touch and more affordable
Rick Stein's Bistro — as above but more, well, bistro-ish…
Rojano's on the Square — our first choice recommendation for non-Stein in 'affordable' the eaterie bracket
Burgers and Fish — a 'trendy concept restaurant'
Pucelli's — easygoing pizza's and pasta with the best view in town (pictured above)
Cherry Trees — our favourite for great breakfasts and lunches… simple but inspired
9. Visit the Lobster Hatchery
Lobsters are wild animals and part of a fragile marine biosystem. In some parts of the world lobster populations have completely collapsed and the National Lobster Hatchery does amazing and essential work to make sure that doesn't happen here. Do pay them a visit — it's really interesting and your admission fee helps.
10. Take a seafari
Padstow Sealife safaris will zip you out to where the birds and cetaceans are. At different times of year you can see common or bottlenose dolphins, seals, porpoises, basking sharks, sunfish, guillemots, razorbills, oystercatchers or even puffins.