Zennor — the Tinners' Arms and stunning coastal walks
Zennor is a few miles beyond St Ives on the coast road that leads, after much twisting and turning, to Land's End. It's a tiny and very pretty village just off the road — and if you are in the area it's a must. Despite its tiny size, there are five brilliant reasons to come… here they are in no particular order:
The Wayside Museum — a private collection of over 5000 artifacts set in the garden and buildings of a working 16th century Miller's cottage and watermill.
The Zennor Chapel Cafe which serves amazing cakes and good coffees. Click here.
The Tinner's Arms, at its heart a timeless Cornish pub — but with a great kitchen and plenty of space to always fit you in.
St Senara's church — particular famous for its so-called mermaid bench-end, depicting the mermaid from the 'Mermaid of Zennor' story.
The coastal path, which in this stretch is one of the most breathtaking. Yes we do tend to say that about so many sections of the coastal path…
We started with a light lunch (Maria had scallops with hog's pudding, me a pint of classic moules-frites). Then headed east along the coast towards St Ives.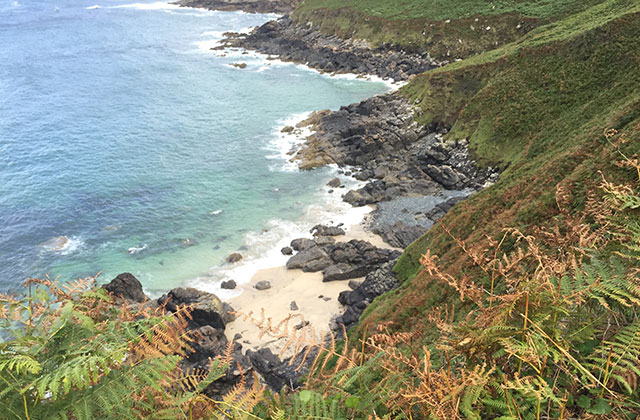 Walking off lunch on the coastal path for a few hours… it's not the easiest stretch of path, but does yield some breathtaking moments like this. Take walking poles if you are a pole-lovers. There are scramble-down paths to some of these seemingly-inaccessible coves. But be careful!
The walking gets easier as you approach Treveal. Here we turned inland and followed a footpath through fields…
Bringing us back to Zennor… a round trip of about 3 hours at a fairly gentle pace.