St Clement's House is a delightful grade II listed Georgian holiday cottage, nestled in a quiet side-street just moments from the beautiful harbour of Mousehole. This charming property is divided into three storeys and exudes townhouse elegance whilst retaining a rustic and homely feel.
St Clement's House sits moments away from Mousehole's picturesque fishing harbour and little beach, and boasts bright and airy rooms set across three storeys. This traditional granite house is a Grade II listed property and is one of just two cottages accessed via a private cobbled pathway, benefiting from quick access to the harbour and beach, whilst remaining tucked away and not overlooked.
As you approach St Clement's House you are met with ocean glimpses over the rooftops of the nearby properties as you make your way down steps to the cobbled courtyard in front of St Clement's House. You'll pass the sweet and perfectly formed front garden area, where a table and chair set are laid out to catch the morning and afternoon sun, (barbecue too!) where you can relax and take in the atmosphere of this friendly and welcoming little fishing village.
This wonderful Cornish home has been refurbished to a very high standard, with many of its original features lovingly conserved, including the main staircase and original fireplaces. St Clement's House not only offers the sort of rustic charm you would expect from a traditional Cornish house, but also a little townhouse elegance.
Inside St Clement's House
Step through the front door where you will be instantly charmed by this lovely home; a bright and airy bedroom containing a king-size bed lies to the right of a small hallway, and the spacious lounge area containing two sofas and an arm chair lies to the left, with a staircase ahead.
The lounge contains a wonderfully large contemporary wood-burner, perfect for those winter evenings, or even if those balmy summer nights decide to take a turn. There are shelves and drawers full of books too, as well as a television with DVD player to wind down with after a busy day exploring.
From entering this charming house, you have a choice; climb up the stairs to the first floor that houses the family bathroom with a large shower-over-bath, and two more bedrooms. The double room lies to the left and this – as well as the bathroom – enjoys more sea glimpses, with the twin room sitting on the right hand side of the landing, which is spacious and bright. The bathroom also benefits from luxurious under-floor heating.
Head down to the lower ground floor, past hand-painted mirrors and original Cornish artwork, where a large well-equipped kitchen/diner awaits, perfectly catered toward the avid chef, but just the right amount of appliances and crockery for those who aren't too keen on cooking whilst on holiday! This room also benefits from under-floor heating.
The kitchen door leads out to a small courtyard, which is the same aspect as the front garden patio, but on a lower level. This makes a lovely little sunspot and a second outdoor WC is located under the steps. The next door cottage also has access across the courtyard.
Out and about
With cobbled streets a-plenty that lead off in all sorts of directions from the harbour, Mousehole is a picturesque Cornish town full of local charm. St Clement's House benefits from private access to the harbour and beach that are a mere 30 seconds away, shared with just one other immediate neighbour.
An idyllic fishing village, Mousehole boasts picture-perfect cobbled streets full of bistros and art galleries, as well as being a great community with a fantastic atmosphere. Plenty of establishments are available nearby that offer a wealth of food and drink. Enjoy afternoon tea at the Tremayne Tea Room, or sit down for an evening meal at 2 Fore Street, a French bistro-style restaurant on Mousehole's harbour front.
This perfect Cornish town is full of history, and the Sea Salts and Sail Festival takes place every two years, which celebrates Mousehole's fishing heritage, with traditional sailing boat races and many other activities and entertainment for the whole family. Visitors venture from far and wide to see Mousehole lit up at Christmas time, when the village puts on arguably one of the best displays in the south west.
As well as offering the perfect amount of Cornish cottage charm, Mousehole makes a great base from which to explore areas of Cornwall; be they near or far. Sit on the harbour with fish and chips and admire views of St Michael's Mount, (watch out for the seagulls!) or take a short drive to nearby Marazion to walk along the golden sands. Venture out on to the coast path and head west to Lamorna, which makes for a stunning walk.
The busy harbour of Newlyn lies just two miles away, where more restaurants await and an excellent 'Fish Festival' is held annually, celebrating Cornish seafood and local fishing heritage. Or head a bit further down the coast towards the beautiful Porthcurno, where a visit to the Minack Theatre is unmissable.
Head even further west down towards Land's End, or visit the port of Penzance, famous for it's pirates and boasting one of the mildest climates in the UK. Or take a drive across the county over to the north coast and visit St Ives, which offers a similar sort of charm to Mousehole; cobbled streets and a lovely harbour, just on a slightly larger scale with a few more shops and restaurants to chose from.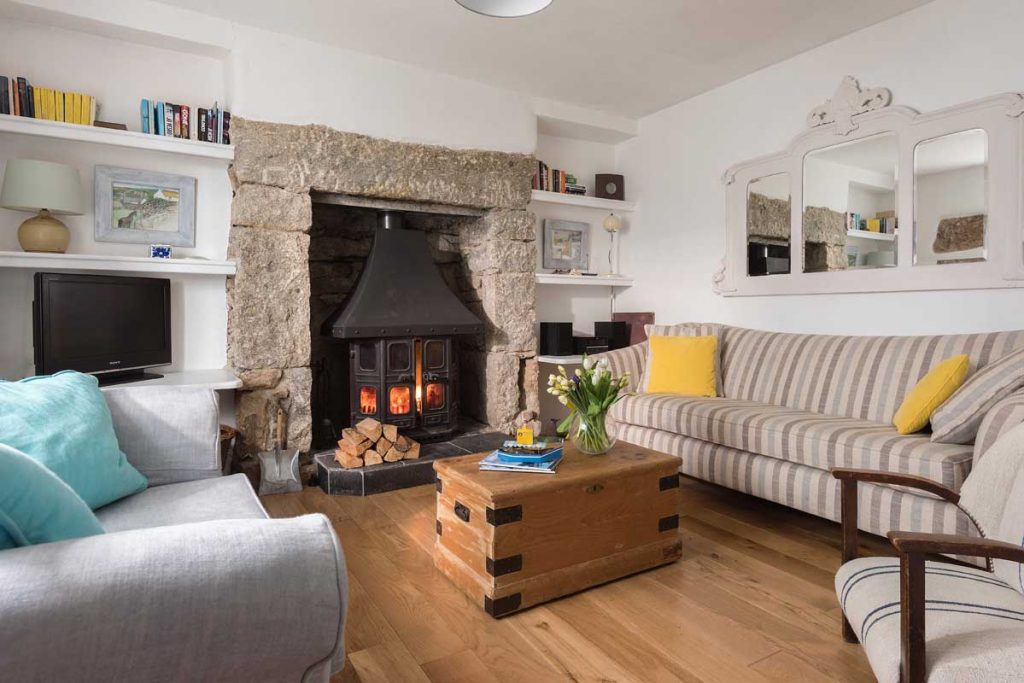 Things we love
We think St Clement's House is the perfect holiday cottage for an adventurous family; it's spacious enough and in a great location, but if you are a couple it also offers the right amount of cosiness and can make for a fabulously romantic escape.
We love the secret passageway at the bottom of the courtyard, which takes you down through a winding alleyway and immediately comes out just above the little beach that's next to the harbour; not lifeguarded but it is sheltered by the harbour wall.
It is this combination of quirky cobbled streets of Mousehole on your doorstep and the fact that St Clement's House offers the elegance of a townhouse, but also the rustic charm that you would expect from a traditional cottage in an ancient fishing village that makes this home a wonderful place to relax and enjoy all that Mousehole and Cornwall have to offer.
Beautifully furnished base
What a wonderful house! We all loved the harbour with its lovely beach, swimming in the sea whenever we could, St Michael's Mount, the Tate, and the amazing seafood. St Clement's House was the perfect, cosy, beautifully furnished base for all of it. We came to Cornwall on a whim, having not been for years - we will definitely be back soon. Thank you!
Ned, Jo, Este & Nico — September 2022